JBS fund for the Amazon 2022 support
We went to visit the Inclusive Community Economies Program. We wanted to see how they were strengthening the Acai Berry bio-economy, forest conservation and promoting health and education within the communities and increase local family incomes.
Location: Amapa, Macapa, Bailique and Beira Amazon Districts
Partners: Instituto InterElos, Amazonbai, State University of Amapa, Luthier School Workshop of Amazon, International Institute of Education of Brazil, Instituto Terroa.
Acai Berry bio-economy in Macapa
We met the President of Amazonbai, Amiraldo Pica. He gave us a tour of the factory where they Amazonbai processed their Acai berries into a frozen pulp product. Amazonbai is a co-operative of farmers who harvest acai berries in the Bailique and Beira Amazon district. Amazonbai is the only native-run acai producer.
Below show's photos of the acai berries, then the process it goes through to be made into a pulp and then packaged and frozen for freshness.

The factory wasn't in use as the season was ending in the first area we visited but further down river still going to harvest acai, climate change so there are 2 times, January and August but now start November and ends in May and starts in October.

The reason they chose acai is that it can grow anywhere. Cattle farming destroys the forest but acai doesn't change the forest it's natural. They take what acai is necessary and the forest remains untouched. Acai can financially support people. They were cutting trees to get money but if they can get money with acai they don't need to cut the trees.

Amazonbai were able to get their acai product FSC certified, vegan certified and stamped with the Amapa Seal showing they are a Product of Amapa, Amazonia, Brazil. The FSC certification shows they take care of the forest for future generations. Amazonbai is also certified in Forest Management and Chain of Custody Seals. They also have FSC Ecosystem Services for maintaining carbon stocks and protecting biodiversity.
By having their own factory and boats to transport the acai from village to the factory they were able to cut out the middleman and make more profits for themselves. They opened the rented factory in December 2021 but have been approved from JBS Fund for Amazon 4million rias to buy a new plant.
Day 2.
We went to visit where the Acai was harvested. In this area they had also built a school and were building different labs to teach people working skills to increase their income.
We first met Paulo Edilson (Martin) from Comunidade n Senhora de Nazare, which is now part of Amazonbai. He has had a difficult fight conserving the rainforest and lots a lot of people to malaria (a long time ago). Today he feels the people are more organised, with goals and determination. The people want to have ownership of their products. Working as a community will make them stronger. Lots of resources from the government go to agro-industry and families here don't get access to it, so they fight for families to get access. He said that the school has made a big difference in their community. The school has students below the age of 19. They have 50-60 students. They want to prepare their students for life, want them to know other schools, free from market dependency. Now they want a university for when children finish high-school. In 2019 they build a community protocol, based on bilateral agreement, purpose to get social document, how community organise themselves and deal with foreign Institutions or government. The protocol reshaped the school method and school relation with community. Through protocol fishing and acai 80 producers and 43 got to end of certification, all 128 members were certificated.

After talking to Paulo Edilson we then went to visit the school. Aldemir, the leader of the community outlined 3 main pillars, their social organisation, production and the school. The first two pillars can in future finance the school. They don't want to depend on government. They also want to be able to fund new schools. For this to be sustainable, families in Beira and Bailique and are uniting 9 communities, 600 families, 800 people. Families who are part of it pay a small amount. They estimate in 4-5 years they will be able to finance the whole education budget themselves. To rebuild the school, reform and restructure the funding from the Portuguese organisation is not enough.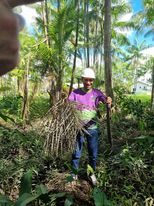 Their biggest bottleneck is no source of energy (they also have no internet), industry of Amazonbai would be here but due to a lack of power it is in Macapa. They think solar energy is the solution to their energy problem. They have 100 hectares and want to also diversify to other areas. Amazon fund, support laboratories, EFAM Family School with productive laboratories teaching how to farm fish, chicken, açaí production and meal creation. On the right is a photo of a man collecting açai berry.
With regards to the women's group and gender equality, they carry out workshops and have a gender centre. 15 women who went to Para (a neighbouring village) because they have a more developed movement there. Now 40 women do an exchange, make food and local dishes, to sell food. A women dormitory funded by a Dutch institution.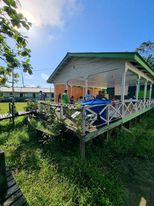 The way the school is governed is that they have a Council and general assembly, 16 people on the board, a general assembly, Technical board and teachers. During the pandemic the teacher went to meet everyone, 2 hours per student and explained each student. They started getting students back in August. Teachers stay here when they are teaching. The school was closed for nearly closed in two years of pandemic. They will open the school in September 2022.
Day 3. Fish factory
We went to Carauari to visit a factory that processes fish. The factory was founded in 2008 with the help of donations from Norway. The NGO that runs the factory is called ASPROC (Carauari Rural Producer Association). At the factory the main fish they process is pirarucu. They are only allowed 2 months to harvest the fish and currently the factory is not profitable so processing the fish is subsidised. They sell the leather and only 50% of the fish meat. They are working on using the biproduct/more of the fish. An idea is maybe they can create cattle feed or pet food from biproduct. It is hard to compete on price since can't compete with illegal fishing. 

We met the Director and Manager of factory. The main goal is to improve the lives of the families. They sell internally in brazil. They are allowed to fish from September 1st until the end of October or Nov. However, because the tide gets too low they can only fish until October. They work with 19 communities, can't get too deep into forest. Help logistics with boat. 

Creation of this process, the fish control, really helped the population
Count fish, Official counter, see high population, in 2021 it's doubled the number of fish, now they can double volume they can fish. Can only take 30% of population, area, only on lakes, 30% of adults. Much more outside of control area than inside control area. The factory operates for 5months but want to operate for 8months. 

Below shows the different certificates.

We then went to try to see where they fish the pirarucu. However, we did not see one. Along the way we could see different docks, where they dock depending on the level of the river. We went to the Jurua river.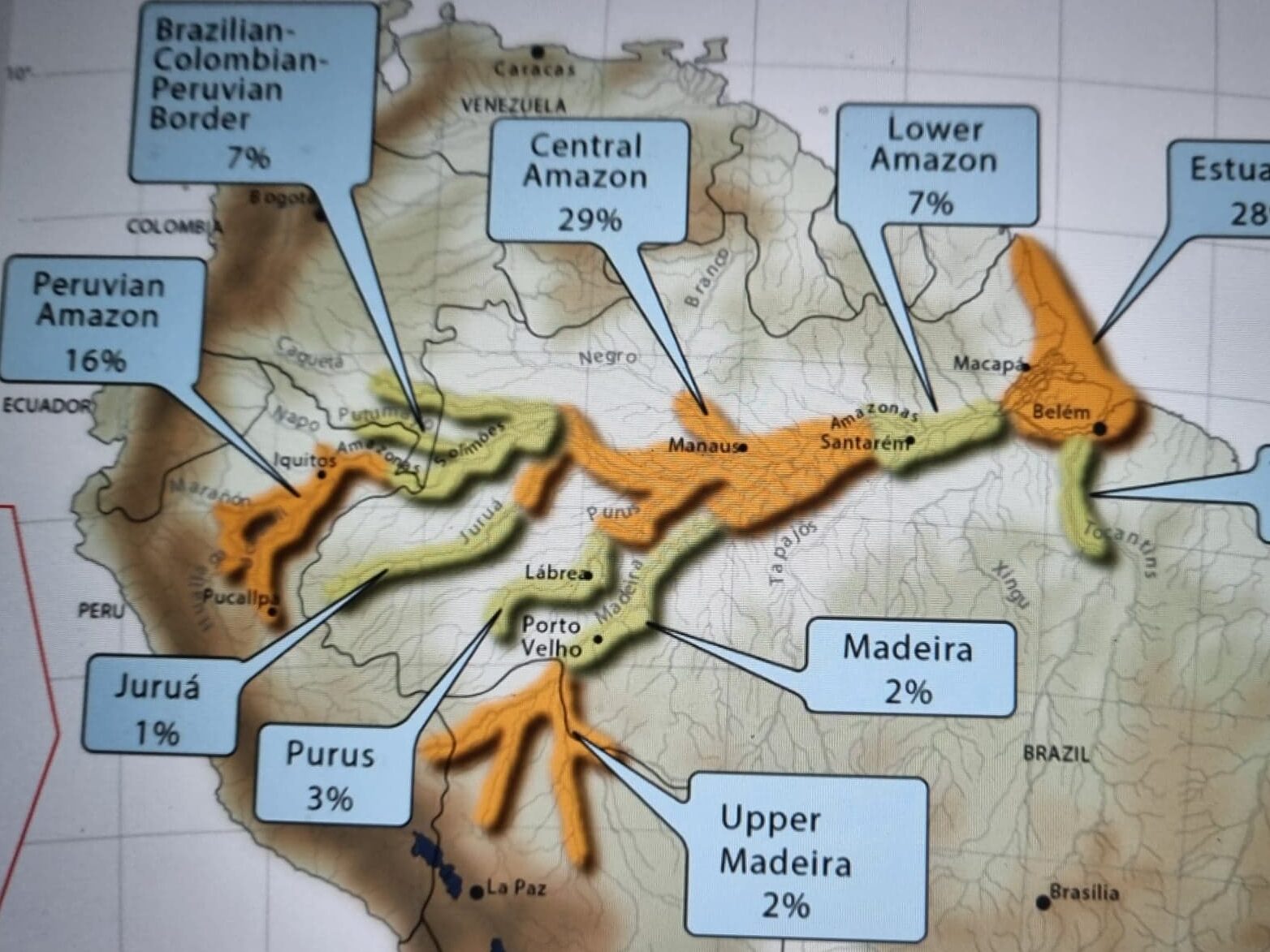 Adevaldo, who is responsible for the sustainable fish project took us to see where they fish. They were all going to this village to plan how they will tackle the harvest this year. They need to do fish management and also do a fish count. We also heard from the NGO Amab president, Fernanda. She is also a community leader and a teacher. She said before they had this income from fishing families needed to go to the city to get education. Now that they can fish they are able to stay and maintain their lives here.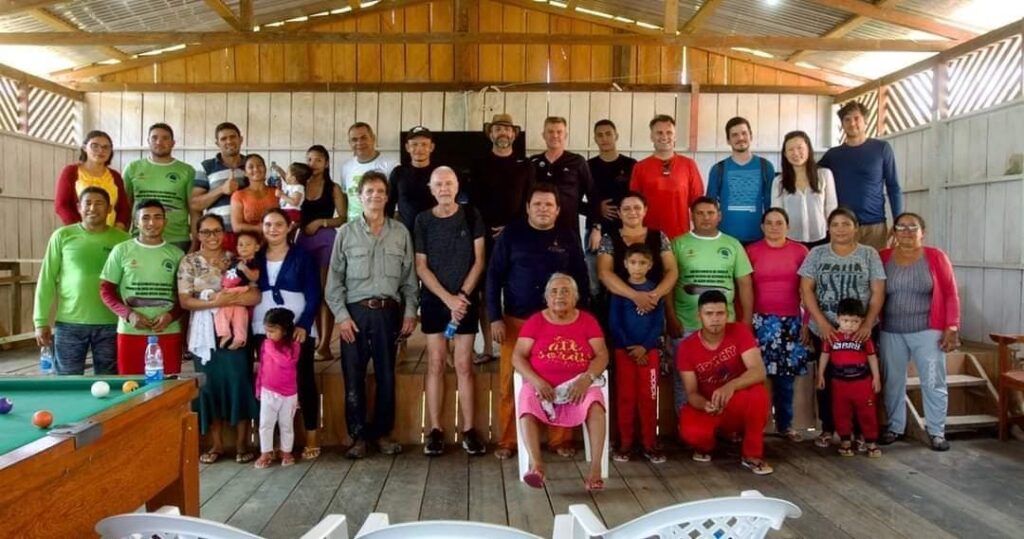 JBS fund for the Amazon is trying to get ASPROC a boat that has the capacity to process and freeze the fish. This will stop the fish from spoiling while in transport to Carauari. They are doing research on the boat and how to build the most efficient one for these people. This will improve income to the villages.