ORFL supports Haverfords impact investing initiative programme
ORFL helped to start a Microfinance and impact investing initiative programme (Mi3) in 2011 at Haverford College in the USA. In 2016 it has completed its fifth year and accomplished many things.
The impact investing initiative programme which is run at Haverford aims to allow students to shadow companies that are trying to make social change, carry out due diligence on the different companies, pick one and pitch it to an audience. After the pitch the students can come to a decision and pick one company to invest in. Mi3 is a part of IC Philly, who is an Investors' Circle network which annually organises 3 to 4 one-day pitch events. In order for these pitches to be heard by members of the investors circle, their business idea must go through rigorous due diligence. Eight Mi3 students were able to attend and hear the pitches, they chose three of the impact investment firms to do due diligence on.
Papatel, which is trying to cater to the needs of the U.S. immigrant population. It has a range of services from free international calling to creative ways of sending remittances.
Milkcrate, a company who created a tool to connect communities to local socially responsible and sustainable businesses near by.
Sanivation, a Kenyan-based company offers a clean and effective solution to going to the toilet, disposing human waste hygienically and using that waste as affordable fuel.
The Mi3 students split into three groups, each group studied one of the three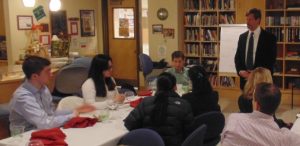 firms. They conducted due diligence and presented their findings to an Investment Advisory Council. Finally, all the students were asked by professor Mudd to step away from what bias they may have and choose the best firm to invest in. The students decided to invest in Papatel as Milkcrate and Sanivation were too early stage. The photo to the right shows Professor Mudd standing, students to the left and the Investment Advisory Council to the right.
Mi3 allows students to have real first hand impact on social enterprises. It also allows the students to meet the entrepreneurs who are trying to change the system or communities positively.