Who is GRASP? Gang Response and Support Project and is a program of Denver Youth Program established in 1991. GRASP is a peer-run intervention program that works with youth who are at-risk of gang involvement or presently active in a gang. It also helps families of gang victims. The staff are ex-gang members who broke free of the gang life-style and turned their lives around. They serve youth ages 10-24.
The Executive Director of GRASP, Johnnie Williams was awarded the Bonfils Stanton Fellowship. Because of this award he was being filmed the day I was visiting. I was able to follow the filmer sent from Bonfils Stanton Foundation. He interviewed Johnnie about his role at GRASP, we also saw the print screen work shop in action, received a presentation, saw the gym and recording studio Johnnie takes GRASP youth to and finally join the healing circle. Below is the video from the interview.
Interview
Zach the filmer asked johnnie what he would describe GRASP as in a nutshell. He said they are Metro Denver Partners, GRASP enterprise who serves at risk youth. Their programs encompass all what they do in their Denver community, the advocate for those who need to be heard and bring resources to them, help them with documentation they can't navigate and serve families looking for help.
What got you started?
Johnnie grew up in Chicago and what got him started was what he saw growing up. His grandmother moved him and his brothers out of Chicago and this changed the direction they were going. He wants to keep youth safe and he wants to be to them what his grandmother was to him, a support system.
Describe what you do?
27 years ago Johnnie started working with young people that wanted to make the transition from gang life into society, they lacked resources and he wanted to remove the barriers to make the transition easier. Grasp has many different programs to help make the transition.
At risk intervention mentoring (AIM) which is a hospital bedside intervention program to change the path the youth is on, dealing with youth from the ages of 10-24. They will be assigned a case manager if they want to make the change, it is very serious to catch them the first time because for some reason, the second time they won't make it if they are in this position again.
GRASP Enterprise is a social enterprise where they sell products they create through silkscreen & embroidery. They provide job readiness training and youth follow a curriculum developed in partnership with The Office of Economic Department, Servicios de La Raza and others. Recently the staff member who ran the enterprise left and started his own shop. They have a previous intern who went through the program running the print shop. They get regular orders and create products for NGO events and more.
GoCo, a program of mediation between old residents and new ones. When new residents move in, which has been a huge trend from California, they aren't aware of how the current residents use the communal area. GoCo tries to get the residents to all break bread together so the new residents don't feel the need to call the police and the residents can sort out the issues together.
Tattoo removal program, participants must complete 15hours of community service/attend 10 Thursday night Healing Circles in order to use this service, this is in order to show commitment toward changing their lifestyle. This is paid for by grant funding.
Mentoring one on one, 3hours a week for a 1 year, this is to help participants get back on the right path.
Teachings?
Educate choices, choices affect you for the rest of your life. Change to gain the good. Gain the change for good. Shine a light on any dark and as long as you breath you can change.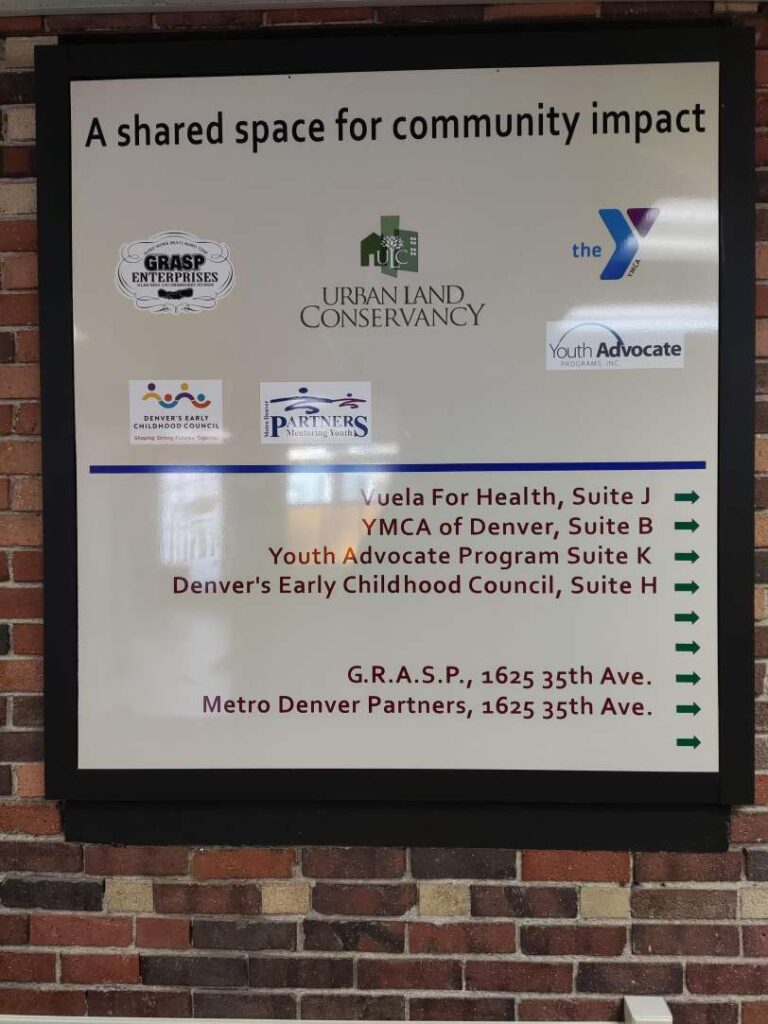 After Johnnies interview I talked to Michelle a program manager and community outreach worker for AIM. She manages 8 outreach workers who try to reach those affected by violence. When youth are affected by a violent crime and end up in hospital, the hospital will alert GRASP. The outreach worker will then go to the victim and meet them by their bedside to try to ask them if they want to change. The outreach workers advocate for proper care for the victims at the hospital. They also provide them with
Services
resources and try to remove obstacles for the victim
sign them up for insurance
Help them apply and continue their education
Connection to mental health wellness wrap around services
Healing journey and healing circles
The outreach workers are trained and educated in crisis response. They are also all community based. In 2020 they responded to 600 victims and met them at their hospital bedside.
Presentation of Ramsey Harris's work with GRASP youth. Ramsey is a certified cultural and historical interpreter and leader. She is the director of community programs at GRASP. She teaches youth outdoors because sometimes youth fear going outside in Denver as they don't feel safe. Sometimes her outdoor park events are the only way youth who are under house arrest are able to go outside. During the pandemic it was a good way to encourage youth out. For one of the youths that helped run a park event, this was the only time he got to go out since he had an ankle monitor, it was coordinated with his probation officer. Ramsey wants to connect youth with the outdoors and get them back into the park. GRASP ran a 5 week summer mind, body, yoga wellness program. Ramsey ran a GRASP Youth Park Guide program.
https://www.facebook.com/graspyouthparkguides/?ref=page_internal
https://www.rmpbs.org/blogs/rocky-mountain-pbs/fighting-gentrification-with-yoga/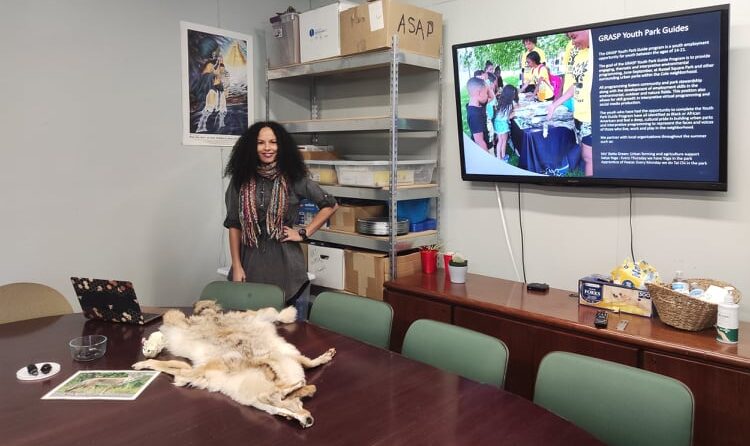 After the presentation we went to look at the print shop that make shirt prints and hats. Daniel the shop manager and intern trainer has left to start his own business but an intern who is 24years old was working there fulltime has temporarily taken over Daniels position. At the print shop they create custom order shirts and mainly shirts for other NGO's or for events. The intern now employee working there had gone with Johnnie to different events in Denver and been the keynote speaker. He told the audience his story. He did seem like the kind of youth who needed intern training.
Johnnie took me and the filmer from Bonfils to the gym his brother runs. Johnnie teaches martial arts to GRASP youth here. He also gets GRASP youth to work out and lift weights as an avenue to channel their energy. The gym also has a boxing bag and boxing equipment for the youth to use. A lot of the youth he serves as well are motivated by the chance to go to a recording studio so Johnnies other brother has a recording studio where Johnnie will take youth if the youth make progress at GRASP.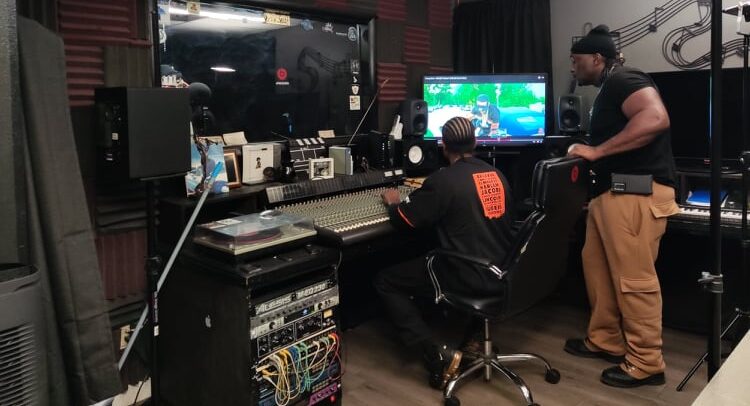 At 6pm GRASP has a healing circle every Thursday. The healing circles take place at the community centre where there are a lot of other Denver charities. A group of mothers in Denver who have been affected by gun violence provided the dinner they serve at the session for the youth.Before the healing circle started a Yoga Group that promotes mental health through yoga and physical health through healthy eating lead a session on knowing yourself. They provided everyone with an exercise to identify what traits you have and how to try to balance them out. How to identify and deal with emotions. I met the Program Assistant / Education Specialist at GRASP, Felipe. He really knows how to entertain and talk to youth. He can really hold an audience and makes the sessions fun, interactive and not intimidating. He really knows how to create a safe space.
At the office I met the administrator John who has been working at GRASP just before it started in 1989 he is a founding member.
To conclude, what I really liked about GRASP was they are located in a block full of NGO's that serve the Denver community. This means they work with the other NGO's. Before their healing circle, they have an activity, when I went it, the food was sponsored by a Denver Mothers groups affected by gun violence and the group activity was hosted by a local Mindfulness group. I really liked the healing circle it was a good way to identify your problems or weaknesses, baggage. The healing circle is also a good way to communicate and show everyone has common problems. You need to do some inner reflection, looking inwards and sharing it with the group for support. I think GRASP really utilises local resources. When Johnnie becomes a Bonfils fellow he will complete a workshop with the other 2021 Bonfils fellows, this is to benefit him in planning his leadership journey as well as to connect him to other fellows and alumni fellows so they can create a community of non-profit leaders. In sum, I think GRASP is a great resource for youth.