How E-Commerce Opens new opportunities for Smallholder farmers
 ORFL has been working with Mercy Corp to increase smallholder farmer incomes through catalyzing community-led, market-driven solutions, building co-operatives and supporting innovations such as E-Commerce and low cost technical traceable solutions. The challenges facing rural China require working in partnership with the private sector, local governments and civil society actors to improve impact on smallholder farmers and rural communities. The following will summarize the what we learned and how farmers benefited in China. Last time we posted about this e-commerce project it was at the half way mark, you can read that article here.
In the project we completed with Mercy Corps we aimed to stimulate economic growth by empowering smallholder farmers and rural entrepreneurs and by strengthening market linkages. The program in rural Sichuan, China, targeted 7,150 smallholder farmers directly and 55,600 additional beneficiaries indirectly. We helped farmer co-operatives open online stores. We also carried out promotional sales events in collaboration with Alibaba's Corporate Social Responsibility department, hi.taobao.com, Suning.com and a local transportation company. In Mianyang, we supported smallholder farmers to form three informal farmers' groups and open an online store through the WeChat platform to sell black peanuts and sweet potatoes directly to consumers. As part of this work, we engaged Chinese social and public media to promote the events.
The farmer cooperatives were provided with support to set up and design online stores, create promotional materials and packaging, training in store management and after sales service. The farmer cooperatives also benefited from connections to reputable transportation companies and cold chain storage. Online sales events helped promote the Ya'an fruit industry and cooperatives sold 20,590 Kgs of kiwifruit and cherries at a higher price directly to consumers. This mean a 140% increase in net profit per Kg of kiwi fruit and cherries. The farmers are now able to build on their new customer relationships, grow brand recognition and expand the products available online to oranges, pears, tea and mushrooms so they can sell products year-round. The WeChat pilot online store for black peanuts sold 482 Kgs in just three weeks of promotion.
While online sales offer farmers the opportunity of selling directly to end consumers at prices up to 67% higher than to traders, smallholder farmers still struggle to access high value markets. They rely heavily on local traders at the farm gate, and have little brand recognition. The capacity to manage an E-Commerce business, including online store management, development of the brand and implementation of online promotion campaigns, varies among the cooperatives and informal farmer groups. The ability to negotiate cheaper prices for services, such as logistics, packaging and marketing depends on the organization and cooperation of the smallholder farmers and their access to the information of those market service providers.
Cooperatives and formal farmer groups are better positioned to utilize economies of scale, leverage the volume of sales to negotiate better prices for services, and ease some constraints to the implementation of quality control systems. Safety and quality of agricultural products are increasingly attracting public attention due to a number of food scandals and affecting consumers' buying practices and preferences. However stringent safety and quality requirements trigger new transaction costs for smallholder farmers without adequate capital investment and technical assistance. In addition, smallholder farmers lack an understanding of standards and farming practices required to ensure safe and high quality agricultural products. Therefore, we had to get the farmers to strengthen and promote the traceability of their products and to communicate that process via the new online platforms they had set up.
We reached farmers cooperatives who could sustainably use product quality control systems and online platforms to promote and sell their agricultural produce, reaching higher value markets and increasing their incomes. One way we did this was reaching out to Sunyaki, an organic high quality supermarket chain in China. Sunyaki agreed to buy 500 chicken from one of our rural chicken cooperatives and advertise the end product for free as part of their social responsibility program. This gave this rural chicken co-operative access to high value customers who pay a premium for chickens that have space to roam, organic feed and good living conditions. The photo below shows rural Sichuan where the chicken feed is grown. The chickens are also kept close to this area.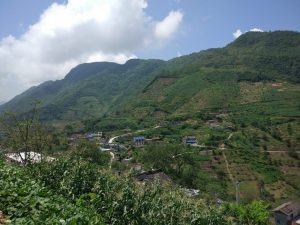 To help improve traceability technology to trace the product to a farmer and ensure compliance with the quality standards and/or guiding principles Mercy Corps signed an agreement with Harvard Business School on a research project to develop a traceability system for agribusinesses sourcing from smallholder walnut farmers and with Coca Cola to develop an engagement model for sugar cane producers to track the compliance of smallholder farmers with their Sustainable Agricultural Guiding Principles.
To help the farmers decrease costs and gain access to higher value customers we worked with existing cooperatives or helped them form cooperatives or farmer groups. Cooperatives allow for the bulk purchasing of inputs, aggregation of sales, and direct connections to large buyers as well as access to higher value markets. We aimed to build and improve their organizational management, and facilitate cooperation among them. The capacity of cooperatives and farmer groups in Ya'an and Mianyang prefectures varies significantly so the project will do a rapid assessment of training needs and develop tailored trainings for the target groups. For example, in Santai County, Mianyang prefecture, the informal farmer groups are nascent and will benefit from support to formalize their structure and decision-making processes, while in Ya'an prefecture, established cooperatives are likely to benefit from financial management and more advanced training. Where appropriate, cross-visits will be organized to share best practices between the cooperatives and farmer groups and help maximize resources and achieve economy of scale. Some examples of cooperation include sharing online store space or produce storage, developing shared branding and/or running joint promotions, and/or selling to cooperatives with the online presence.
We worked on facilitating linkages between cooperatives and farmer groups with input providers, such as firms selling quality seeds and fertilizers that are willing to provide technical assistance to improve the quality and productivity. Where possible, we will facilitate arrangements with processing firms and wholesalers interested in sourcing products from farmers and supporting them to produce the required quality and quantity.
The project introduced farmers, farmer groups and cooperatives to different e-commerce and selling platforms. It facilitated connections with professional service providers in areas such as packaging, marketing and logistics to ensure that farmers had the necessary support for their E-Commerce business at cheaper prices. Mentorship sessions were provided for the farmer groups who are learning to use online platforms through experienced cooperatives and farmer entrepreneurs and service providers. The project used social media like WeChat or QQ groups to facilitate distance mentorship sessions and peer support. The project also mobilized other governmental and non-governmental resources to expand the support for the smallholder farmers.