Hong Kong Society of Rehabilitation 2021
ORFL with the help of our Hong Kong office decided to donate to the Hong Kong Society of Rehabilitation (HKSR). We decided support HKSR with general funding. HKSR opened the first-ever rehabilitation hospital in Hong Kong in 1962. It was the first accessible building in Hong Kong. Since then they have opened up eight rehabilitation hospitals, old people's homes and transportation to help those in need.
HKSR provides a one-stop services for persons in need
Rehabilitation
Health management
Accessible transport and travel
Supported employment and elderly care services
What I really like about this organisation is that they have trained nearly 400 people with disabilities to work in their shop. Their shop generates jobs and revenue for people with disabilities. I also think they have a solid fund base so are very sustainable. They collaborate with different communities and international charities such as the WHO. They also follow frame work set out by the WHO and constantly encourage their staff to train and keep up to date with the latest most effective methods to help people with disabilities. The number of volunteers and volunteers' hours is also impressive, showing a committed Hong Kong community to HKSR.
Below is a photo from HKSR Facebook page. It shows our staff with staff from HKSR. Our staff is presenting HKSR staff with ORFL's donation.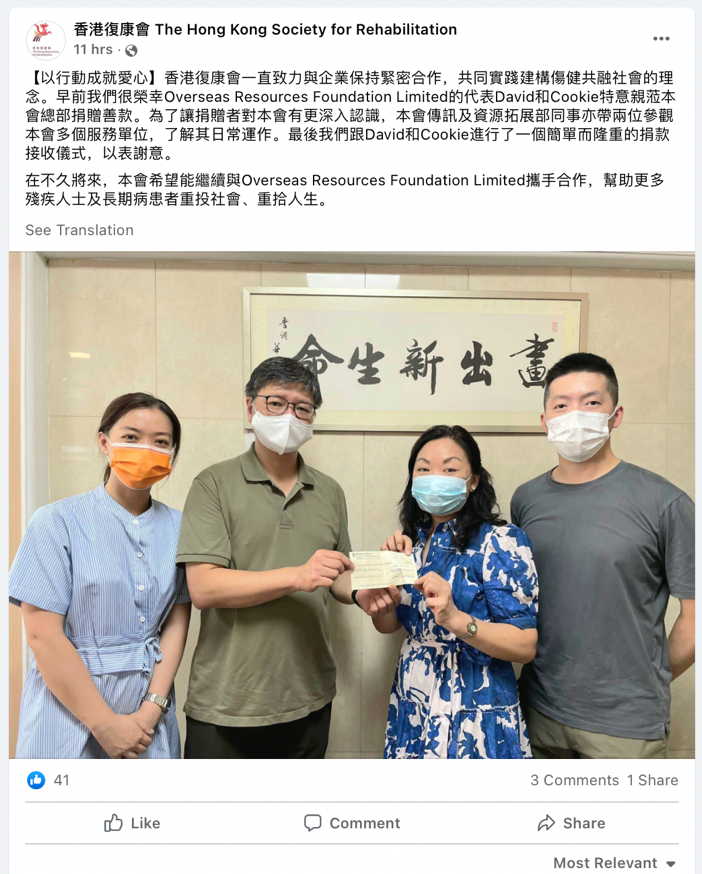 To find out more about HKSR their website is: https://www.rehabsociety.org.hk
We look forward to working with HKSR in future on more projects.