Trip to Rabbis for Human Rights
ORFL has been a long-time supporter of Rabbis for Human rights who aims to protect the human rights of everyone living in Israel and its occupied territories.
To provide some background on Rabbis for Human rights (RHR), they have five departments all aiming to promote:
The Legal Department
Human rights in the Occupied territories
Education department
Interreligious Coordinating Council in Israel
Social Justice in Israel Department
You can find out more about each of these departments on their website http://rhr.org.il/eng
On the 19th of March 2017, I a representative of ORFL, was able to go visit RHR and see what work they have been doing. I met RHR's Development Director Louis Frankenthaler and he took me to see their Hadera Rights Centre where RHR's Social Justice Department operates. There I met Rabbi Idit Lev the director of the department, Rabbi Sigal Asher the Centre director and Rabbi Kobi Weiss the director of Housing in the Social Justice Department.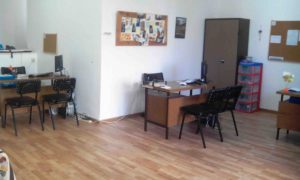 The Hadera Rights Centre is public facing and anyone can walk in who needs help. The RHR human rights department created this center in order to see what issues poor people in Israel were dealing with and what needed to change in order to make their situation better. The center works on promoting the voices of people living in poverty.
After the grassroots approach of meeting the poor face to face and identifying the problems or issues they face, they are able to take these issues to the Knesset and try to implement or rectify laws to improve the problems of economically vulnerable people. If not change laws, make the government aware of problems poor people are facing and create policy change or how social services deals with issues in this area. They were also able to hold an event that aimed to raise awareness for the struggle against poverty at the Knesset.
One area the Hadera Rights center has focused on is housing for the poor and in 2016 they had great success after working with coalition partners and activists. They were able to change legislation to better serve and protect the housing rights of those living in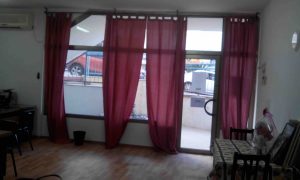 poverty. This legislation change came after five years of work.
To summarize, they are able to identify issues poor people are dealing with from the source and create actual policy change.
On the 20th of March 2017, I was able to meet Rabbi Nava Hefetz the Education Department Director at RHR, she took me to Hebron.  On the way Nava told me about her work in the education department of RHR. She creates tours and lectures for 15 pre-military academies to educate them about human right issues in Israel. The courses Nava runs at the pre-military academies combines the subjects of human rights, Judaism and the state of Israel. It aims to equip these young adults with a moral compass that will guide them in making moral decisions that don't infringe on human rights during their service and for the rest of their lives. The tours that she gives to these pre-military students provide insight into human right issues around Israel.
I was also able to meet Yair Nehorai the Director of legal work in the occupied territories. Yair and Nava told me about some of the cases they were working on such as a petition that states Palestinian minors must receive the right to a review process and receive the same rights/treatment as an Israeli minor.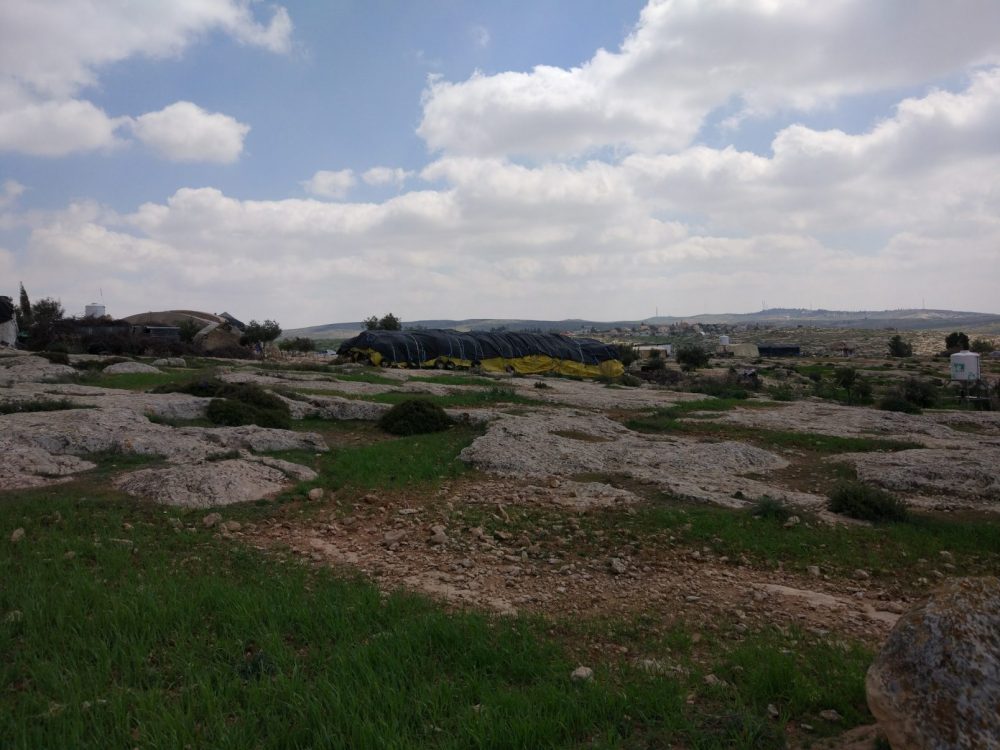 Nava and Yair took me to Susya on south Hebron hills, Susya is shown in the photo above. They are not allowed to build on this land as the Settlers in the West Bank have been allowed to. Residence of Susya owned land on both sides of the 1948 border but were pushed out and Susya was actually founded in 1983 but has been moved by the Israeli government three times. Settlers who live around this area keep on encroaching on their land and have actually put in a complain that this land is agricultural land so Susya and its residence need to move. The Settlers who live in the surrounding areas have access to electricity and running water. Residence of Susya have neither, they must buy water at 5times the price as settlers even though there is a pipe brining water to the settlers not far from them. The residence of Susya got a solar panel donated to the so they would have electricity at night, however it was heavily disputed by the Settlers, in the end the residence of Susya won the battle and were able to keep their solar panel for electricity at night to allow their children to read and basic activities like that.
Something else I witnessed is there were no street signs to Palestinian towns, there was no acknowledgement of them. There were also Settler illegal out posts everywhere. Using these illegal out posts they can see Palestinians going to farm or school and then they are able to attack them. This can intimidate Palestinian children from going to school or farmers from taking care or harvesting their crops. RHR have been working with operation Dove to make sure a foreign national volunteer escorts these vulnerable groups as it is often hard to co-ordinate soldiers to escort these groups. This has hugely helped to allow the children and farmers to get around more freely without fear of being attacked.
Nava and Yair also took me to Hebron, a city divided into two. H1 and H2, H1 being Palestinian controlled and H2 although maintained indirectly by Palestinians, the Israeli forces have indirect control. It was once a thriving busy bustling Palestinian city. H2 the city center and religious center of Hebron is empty. However, no Palestinian car is allowed to drive in there. With no access to cars or the road, all the shops have closed. Some properties owned by Palestinians have been taken over by Settlers.
The government make it impossible for Palestinians to live out in the West Bank on their own land. Either it is a safety threat or the land they are living on is arable land or an archeology site so the Palestinians are constantly forced the move. The army also does not interfere when they see Settlers encroaching on Palestinian land. Rabbis for Human rights among other things help the Palestinians with access to their land, being able to farm on their land and just live on their land.

On the 21st of March 2017, I was able to visit the head office of RHR in Jerusalem where I met Ayala Levy the Executive Director of RHR. She explained the different ways RHR tries to protect the human rights of all people in Israel. I was also able to meet another lawyer Fadi Aboud at RHR and he told me more about their activities in the Knesset and West Bank.
I met Cindy Katz who explained how they use social media to spread the word about RHR's actions. The articles try to not be extreme but present the situation from an educational and religious stand point. RHR also use Social media to organize events or get volunteers to e.g. help out when Palestinians need to harvest their crops.
Finally, RHR are promoting change not only at a governmental policy and government level through changing or introducing new laws at the Knesset but also through changing the minds of young Israeli's in Israel. I would like to thank everyone at RHR for all their hard work and for changing minds and government policy to bring peace in the future.