The Sanctuary Short Stay Home
Short Stay Home Report for April 2015 – March 2016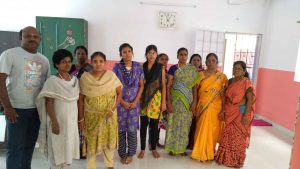 This Christ Faith Home (CFHC) started sanctuary programme. The sanctuary is a home for women in India providing them shelter and safety. It also is somewhere that provides women with psychiatric treatment, occupational therapy and vocational training to help them build a better future.  This is so they are able to learn how to be independent and self sufficient in the future. The women who come to the centre are usually between 15 to 35 years old and are either destitute, run away cases, police referred inmates, helpless widows or women who come for support and counseling.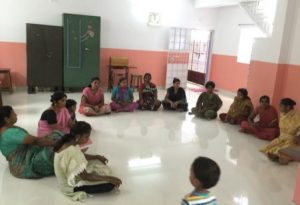 As part of this programme of building a better future for these women (Short Stay Home) there is a home committee meeting every three months. In the Home committee meeting newly admitted women are encouraged to share their problems. The committee members try and provide a good solution for the women's problems. The committee is made up of a minimum of seven members. The members come from a range of backgrounds, the members usually consist of a doctor, advocate that advises on legal issues, police officer, state welfare board representative, district social welfare officer, psychologist, someone working in protecting the welfare of women from NGO's.
In April 2015 to March 2016 the sanctuary was able to take in 58 women and 17 children. If the women have children under the ages of seven they are able to come to the sanctuary too. Free education is provided to them along with English classes.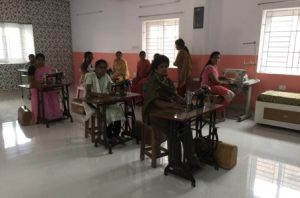 During the rehabilitation, the women are given vocational training to empower them and make sure they are self sufficient or have skills that can allow them to provide for themselves after their stay. An example of this training is care taking, cooking jewellery making, tailoring, woolen stitching, bag stitching, floor mat making and paper quelling jewellery making. During this years short stay, women chose to do woolen stitching, cloth bag stitching, paper quelling jewellery and floor mat making. 24 women were able to be fully trained in these skills. The photos show the women learning how to sow. Then the photos bellow show the finished product of other skills taught at the vocational center. There are jewellery making and paper quell jewellery making.
During the short stay home, there were many celebrations. They celebrated Pongal, Diwali and Christmas. A moment captured at the Pongal celebration is displayed below.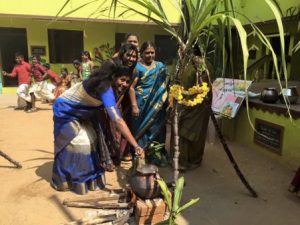 Other holidays that were also celebrated were international women's day, republic day, independence day and new years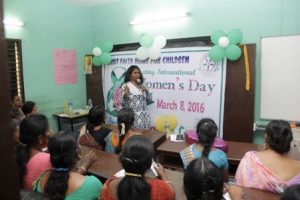 Finally, the women were also taken on field trips to expand their experiences and expose them to different places. CHFC took the women and children on a tour to Yelagiri for two days. All the women and children enjoyed playing in the natural park. They were also able to go on a boat and enjoy each others company. It was an unforgettable experience for everyone.
In the sanctuary or short stay home, there are many different kinds of women who come there facing all kinds of different situations. Of the 58 women and 17 children admitted to the sanctuary, 28 of these women and 8 of these children were rehabilitated and reconciled with their families.