Rabbis for Human Rights 2019
Date: 22nd of October 2019
Location: 13 King David Street
Meet: Louis Frankenthaler Development Director, Rabbi Michael Marmur Director, Avi Dabush Executive Director, Rabbi Nava Hefetz Education Director
In 2019 ORFL sent our normal support to RHR, general fund support, Rabbinical Student support. We also sent additional support for their Legal Department and for their Social Rights Centre. I went to Israel to see how RHR was doing. I met them at their new office, which is a much smaller area than their last office (shown in the photo below). I had a meeting with their new executive director Avi Dabush. I also met Michael Marmur a long-time director, Nava the Education Director and Louis. During this meeting I learnt about their new direction.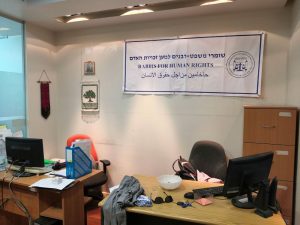 Their new direction was triggered by a recent olive harvest. Every year RHR takes volunteers to the Occupied Palestinian Territories and help Palestinian farmers harvest olives, as per usual RHR member Rabbi Moshe was there helping with the olive harvest when settlers came to attack the Palestinians or anyone helping them. Everyone ran away but Rabbi Moshe is 80 and couldn't run away and the settlers beat him up, fracturing his arm and injuring his head. These same settlers attacked the army for arresting a settler. This ordeal was followed by an explosion in media coverage because the settlers had attacked the army and also an Israeli. This spread the RHR name and RHR received many donations. RHR realised the power of the media to make the invisible issues (problem of the settlers) occurring visible and the power of the media to change public opinion, eventually changing society.
RHR decided the best way forward is to focus on spreading their message. They want to use the power of the media to expose the atrocities happening in the OPT. They were unsuccessful in going to court and changing the laws to maybe they can change attitudes first via media influence. They want to be the unique public voice that advocates for Judaism and human rights.
Another way they plan to spread their message is through increasing their community base, meaning expanding the number of Rabbis that are members of RHR. They want more involvement from Rabbis who are members. RHR also wants to focus on three main areas, Social Justice, Education and the rights of Palestinians.
After the meeting Nava the education director took me on a tour she usually gives to students attending pre-military academy (an educational option you can pick in Israel before joining mandatory army service). This tour is to highlight poverty in Israel, it is also to give Israelis and education regarding human rights and things they may not realise about their society. Nava showed us where Israel had built a wall and destroyed the livelihood of many and inconvenienced the Palestinian population. Nava showed me around Jerusalem and difference between Israeli neighbourhoods and Palestinian ones. The Israeli neighbourhoods had public facilities and the Palestinian ones did not even have sidewalks or rubbish collection even though they paid taxes.
Date: 23rd of October 2019
Location: Occupied territories for the Olive Harvest
Meet: Dr Yehuda Schwartz Director of Field work in the Occupied Palestinian Territory
We went to the Occupied Palestinian Territories. This trip was led by Dr Yehuda Schwartz, he is one of the Rabbinical students who is studying to becoming a Rabbi. He meets the Palestinian farmers and co-ordinates who needs help in each area and brings volunteers to the farmers. I attended the Harvest on Wednesday, there were only 10 volunteers this day, on Thursday there is an expected 30 volunteers and one Friday there is an expected 86 volunteers. The first location we tried to help with the Olive Harvest was blocked by the army, the army arrived at 6am and declared the area a closed area for security. Yehuda contacted another farmer who wanted help and we went to a second location. Here I was able to meet Avi and all the staff from the Hadera Rights Centre. There was also a film crew (Arte TV) who interview Dr Yehuda Schwartz and asked him about his work, views and RHR. The film crew were also able to witness the morning ordeal where the Palestinian Olive farmer was not allowed to access his land and it was closed down by the Israeli army.
After the Olive Harvest Avi shared a portion of the Torah which talked about how we cannot burn the olive trees as the settlers have done. Avi also asked the volunteers from the Methodist church if they would like to share something from the Bible regarding caring for the land and trees. They mentioned that the Bible also said we should care for the land.
Here is a photo in the Occupied Territories with Olive Trees around us. This is a photo without the film crew. The children are 3 out of 5 of the children of the Olive tree farmer. The rest of the people are the volunteers and RHR staff, the farmer and his wife.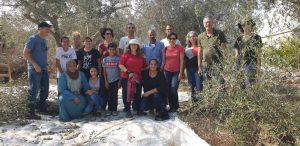 Date: 24th of October 2019
Location: Hadera Rights Centre
Meet: Sigal Asher,
At the Centre I met Rabbi Sigal Asher who is the Director of the Center. I also met Aisha Sidawi who works at the centre, she is the Coordinator of Social Justice empowerment groups. The aim of the centre is to help vulnerable people in society, Sigal and Aisha provide anyone who walks in the door with assistance in understanding debt repayment and how they can handle it or how to apply or be eligible for public housing, claim unemployment benefits if they are unemployed, claim paid sick leave or child allowances. Many Palestinian citizens of Israel have language barrier problems. This centre operates at full capacity. With 120 interactions per month. While the centre is operating at full capacity, they noticed that not so many Palestinian women come to the centre so they would like to hold a pop up in different majority Palestinian neighbourhoods so they have more impact on those who may need their help. This out-reach will also widen their customer base and increase the number of those who know about the centre.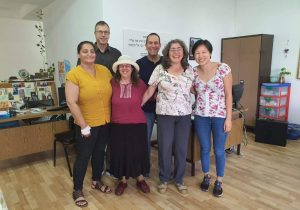 Once a year the Hadera Centre leads the Forum for the Struggle Against Poverty. RHR, their partners and individuals living in poverty come together and work with government representatives to discuss policy-driven solutions to issues faced by those in poverty such as public housing issues, debt, food insecurity and employment of Arab women. This year there were 150 participants and they were able to implement some changes after the government representatives found out the daily issues people living in poverty in Israel were facing.
Finally Rabbi Kobi Weiss told me about his Community Project. An idea he has had for many years but has only been able to materialise now with the help of Rabbi Ayala. His concept starts from the idea that communities do not interact with each other. This none interaction means people build stereotypes of each other. He wants to link communities so they can help bring each other up and improve each other. For example, someone from in a successful community who is doing well can be linked to someone who is facing hardship in a poorer community. This is so these individuals can learn about what each other may be facing. Many rich people have the idea that poor people are lazy, they are also not aware of the conditions that they live in or the fact that it is sometimes difficult to break the cycle of poverty. Kobi linked up with Rabbi Ayala who is a Rabbi for a community in Caesarea (a rich community), she chose 10 individuals in her community to volunteer and mentor 10 individuals from Or Aqiva community. These individuals will be scheduled to meet at the social centre with their social worker. I visited at the beginning of the project, so we will see how it goes. Finally, Kobi wanted this to be community based so that the program would continue even if the individuals changed. He wants a synergy between communities and to build a better society. I think this project is great and hope it works, if it doesn't work initially I do hope they learn from the initial problems and try again.
After the Hadera Rights Centre we went to meet Moshe Yehudai, a director and early member of RHR. He was a Conscientious objector and one of the first Rabbis to be ordained as a reformed Rabbis. The settlers hit him with a metal pole and fractured his arm. After this incident many news reports came to Moshe house to interview him about his experience and his views.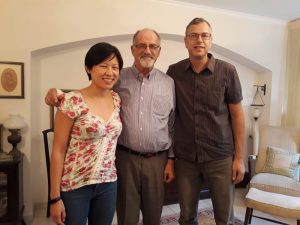 To conclude, to survive as an organisation RHR are going after the funding first. They are prioritising their other activities as the legal department isn't bringing them funding, it is expensive to run and it also disqualifies them from becoming a charity organisation in Israel so Israelis can get tax breaks. They are now focusing on 4 out of their previous 5 focuses.
Expanding their Rabbi membership numbers (and this will increase their influence and voice).
Pre-academy Military tours (educating youth about the inequality in Israel).
Olive Harvest as a way to help in the OPT
Hadera Rights Centre
These focuses all have the aim of helping the Palestinians, spreading the message of greater equality and spreading the information surrounding the violations faced by the Palestinian. To help the Palestinians effectively they also have great partners, such as Yesh Din. RHR mentioned if there is any major case they want to bring to case they can work with Yesh Din and Yesh Din have the resources to bring cases to court. I think RHR is doing a good job of making the invisible visible and bringing attention to the inequalities and human right violations happening in Israel.