Mission: Organise and develop children who live in slum areas to become empowered change agents. They also aim to eradicate mental and emotional poverty.
Report: Prayasam started in 1996 with the vision that children are agents of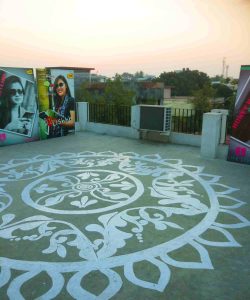 change and that they can transform their local communities. Prayasam strength is through its empowerment of children and young adults, today these children use popular media to engage and educate their community. They call these children Area Health minders. Prayasam educates these children through different classes, Mashkabari, some of which are Ekjot-Nirmaan (after school classes), Ontrack, community visual network and community kitchen. These all aim to build self-confidence, self-expression and understand oneself and society.
Mashkabari is the term they use for their classes because they must pay 1rupee a day, so it shows commitment and responsibility. Some of the afterschool classes that they run in the slums are: English, Drawing, pre-primary classes and Dance.
Ontrack is a programme to develop youth and teach them skills to help their employability and awareness of social issues. It also aims to connect young people from the slums to future mainstream employers.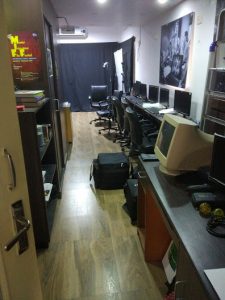 After Ontrack students can take the course visual basics. This teaches slum adolescences the skills to create a film, script writing, lighting, sound, cinematography, directing, editing and distribution. Each year the students decide on a theme and create films that explore that theme such as emotional abuse, bullying, gender equality, sexual violence, human trafficking, child labour and much more. The studio shown in the photo on the right was set up in collaboration with adobe. It was the first grassroots film studio created and Adobe also awarded Prayasam the creative catalyst award. Also, in collaboration with adobe, Prayasam has been holding a world film festival called Bad and Beautiful, where they feature their own films as well as films from all around the world. Other places where Prayasams films are featured are at Sundance next fest, Mumbai international film festival and Childrens film festival. To promote their films in the slums they also organise tablet talks where they go around the slums systematically and get 4 families to watch their videos and after have a discussion to see what they think and if they see this happening and how to change or stop it.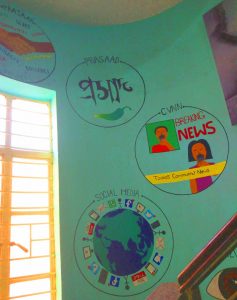 Another part of this is the community visual network is a youtube chanel, Prayasam use this platform to put out educational videos on hygiene, health and again social issues. This allows Prayasam to open dialog and get feedback on taboo topics. They can spread education or a message faster to a larger amount of people.
Recently they have started a community kitchen, Prasaad. This kitchen provides two purposes, it is both a food training centre for young adults and a healthy food provider to the community. Here the employees get training in healthy food production, marketing, packaging and distribution. Money generated from this is also their income. There are currently 30 young adults managing this centre. All the food that comes out of this kitchen is a healthy and low-cost alternative to the other junk food offered.
Field: To see what Prayasam does first hand we went to where they hold classes, Dakshindari. This is the second biggest slum in India. Prayasam are building a field office in a slum nearby called Neheru colony, so they can be closer to the people they serve. Currently Prayasam uses the community centre (shown in the photo to the right) to teach children aged 7-12 dance and English, and also to host a pre-primary school. Around 200 children from the surrounding slum attend these classes. They plan to move these classes to their field office which is currently in the works. Many of the people living in this slum are Muslims or refugees and it is difficult to get the girls to come to the classes since their parents think it's a waste of time.
In Dakshindari the community together with Prayasam created a community map. The Area Health Minders (children change makers) use the map to keep track of people who have e.g. taken their child for the polio vaccine. They also use it to identify families and get them to watch the videos they have created that touch on social issues such as emotional abuse and gender inequality. The Area Health Minders who used to spread messages through speaker phone now use tablets to spread information about social issues so have now also become Community Media Mentors.
Date: 15/02/2018
Location: Various; Rishi Aurabindo Colony, Salt Lake
Amlan the founder of Prayasam wants his staff (who are also students) to think global but act local. He is all about knowledge exchange and getting his staff more educated. Many of his staff go abroad on scholarships, learn and come back and share their new knowledge with the rest of their colleagues and pass it on through classes at their local communities. Further, Amlan is happy to spread the model he has created where he empowers children in the communities to change and empower communities. Other ways Prayasam has been able to collaborate with others is through Slum Dwellers international. They invited Prayasam to their international summit that focused on community building. Prayasams staff participated and met other people from urban slums from across the world. Slum Dwellers international (SDI) relocate slum dwellers to more hygienic and better living conditions, only to find that these slum dwellers continue to live the way they would in a slum and their new homes are left dirty and unhygienic. Since Prayasam change the mind-set of people and empower them, SDI were hoping Prayasam could help them.
Field: To see more of Prayasams activities first hand I went to the easy learning centre in Rishi Aurabindo Colony (RAC). In this community Prayasam hold a free pre-primary school class. There are 30 children, with many more applying and they accept on a first come first serve basis. The students' parents must pay 1rupee a day and this easy learning centre has been running for 14 years. All the current teachers were once students here. Prayasam and the pre-primary school have an excellent relationship. The building it is held in is the community club house, the head of this tried to close it down when it started, however the whole community protested it so it is still open today.
The pre-primary school get children used to sitting and concentrating. They teach numbers, English, recognition and make sure every day the children get a health check. These children are weighed (to make sure they are putting on weight or are of a normal weight for their age), taught how to properly clean and wash their hands and if there are any problems the teachers will contact the parents directly. The parents are also given the syllabus at the beginning of the year so they can see what their child will be learning. The children have a small test so their parents can see their progress. Students are also awarded for attendance, once a year a fieldtrip is organised, students who have consistently attended class are able to go on the fieldtrip.
Prayasam has three other pre-primary schools like this in different slum areas and they aim to have 12 in total (one in each slum area). Prayasam is also happy if these pre-primary schools break away from Prayasam to become independent; there is one pre-primary school that has done this that Prayasam is happy to advise and collaborate with for any help they need. To make sure the teaching remains consistent and good quality, teachers (Prayasam staff) are frequently monitored and evaluated by Prayasam staff. Amlan has created a great relationship between the pre-primary schools and the primary schools so the students are able to get into good primary schools.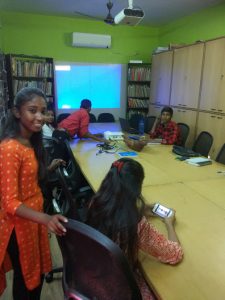 I asked one of the teachers why she stayed with Prayasam, since she used to attend this pre-primary school and what makes it different, she said Prayasam doesn't give you material things like the other charities, they give you tools, they respect you and take care of you from childhood to adulthood. She said up until 23 you can study with them (referring to ontrack and visual basics) and then after that you can even work with them, that is what she did. She now works for Prayasam and gives back to her community.
After seeing Rishi Aurabindo Colony we went to Mahishbathan, this is a largely refugee and muslim community. Prayasam use the local community clubhouse to hold drawing classes and dance classes and the clubhouse provides free electricity, space and the field. Again, during the dance and drawing classes the students are weighed and their nails are checked. The teachers also make sure their clothes are clean. If their clothes are not clean the teachers can send them home. This all has to do with self-respect and discipline. There are also parent teacher meetings.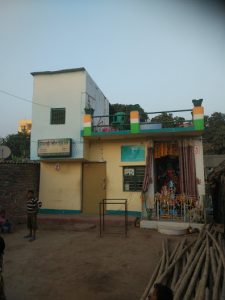 I was able to see a Drawing, English and Dance class first hand held a different community hall. From what I observed the students were clearly learning and having fun. The dance and drawing classes also included boys and girls which was great. To keep the teachers and students accountable they have a syllabus and are marked for attendance and progress. At the end of the year all the different slums who have Prayasam after school clubs are graded and go to a final ceremony called the Community Excellence Award to find out which slum did the best in the different categories. There are different awards presented and it is a fun celebration.
To conclude, Amlan the founder has inspired me through the impact he has had on children and people in his community. Amlan created Prayasam so that it is self-sufficient. He has made all the programmes so that everyone in the community is involved. The majority of the teachers come from the community and he is happy if the community take over and start their own thing. He has created Prayasam to support children all the way until adulthood and if they want to, after being mentored and interning, they can work for Prayasam.
Extra info:
A full list of classes they run are: Ontrack (Lifeskill/ soft skill session), Visual Basics (film viewing and discussion, film making and community screening and discussion), Technology (Computer hardware and software class), Social Media (Comics, Role play, poster slogan, etc), Rights (Child Rights session), Charpaas (Environment Conservation training), Equal (Gender session), Performing Arts Studio (Dance, drama, drawing and craft class), Talk Jhal Misti (Storytelling session), Khela (Sports session), Let's Go (City exposure), Community Calling (Community work training), Vocational Training (Beautician, housekeeping, etc career counseling training), Adda (Conservation on various topics), Pushti (Nutrition workshop), Duo Ranir Sanghsar (From low cost apparel to shoes), Magajastro (Library), Sahajpath (School preparedness platform for toddlers), Counseling (Discussing personal problems), Rannaghar (Culinary class) Porar Ghar (Study space), Map Your World (Using Skype to share the work with children in other countries), Coaching (tutorial for Nirmaan of class X and XII), Tabiyat (Discussion and training on health related issues), Fashion (Smartness and personal hygiene workshop), News Views (Newspaper reading), Lending Library (Music CD and magazine lending library), Harir Khabar (wall magazine on community work), Eventually (Event organizing in the community and outside) and Ekjot-Nirmaan (Training on group building and functioning)