Helping Vishvodayaa Trust repair flood damage in Chennai
Vishvodayaa Trust and Baalyaa School
In November 2015 ORFL worked with Vishvodayaa trust to help Baalyaa School repair damages caused by the flooding in South India. ORFL helped elevate the flooring in the front yard of the school and the classrooms. After the flooding the ground floor also sunk in many places therefore we helped get the floor tiles relayed with Vinyl tiles which are water resistant.
Since the ground floor electrical wiring was damaged during the flood we helped to get it rewired with a tripping mechanism, which will trip automatically if there is a short circuit or wetness caused by flooding or other disastrous situations.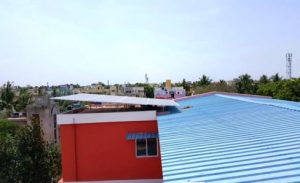 ORFL helped to build protection barriers to stop any potential future floodwater from entering the school. As a further safety precaution check valves were installed in the sewage lines to prevent flood water from backing up into the school. Installing check valves also meant relaying; drainage pipes, sewage lines and toilets.
As shown in this photo a solar panel was installed with an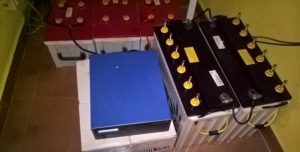 uninterruptable power supply. The UPS will work as energy storage and will provide off-grid electricity for 2 to 3 days. To prevent the school from going powerless again. During the flooding, they were left without electricity for 5 days.
A rain water collection tank was also installed on the second floor. This can supply water to the first and second floor of the school. On the ground floor a deep rainwater tank was installed.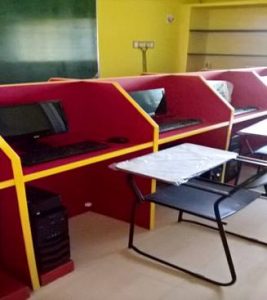 To protect the internal and external wall of the school building from weather, torrential rains and floods, ORFL helped repaint the damaged walls with oil/plastic emulsion paint. This should help withstand weather damage for 10 to 12 years.
Finally ORFL provided twelve computers for the students at Baalyaa School. We hope that this donation has helped the students at Baalyaa school recover from the floods.