Grameen Foundation Supports Micro-entrepreneurs and Strenghthens Communities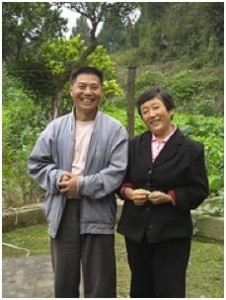 Zhou Bi Fang's story just about sums up how microlending to the desperately poor in China can transform a life and a community. Before ARDPAS (Grameen's local partner) offered him a loan, his life and that of his wife were similar to that of other microcredit clients – a daily struggle to feed themselves three meals a day and many nights trying to sleep despite a gnawing ache of hunger; a thatched roof that leaked in the summer and let in the freezing cold of winter.
Not to worry, ARDPAS told him and gave him a loan that he could realistically pay. Three years later, he's paying off his third loan and is a classic case of how the poor can lift themselves out of poverty with nothing but their own grit and determination.
The first loan was for seed and fertilizer to expand their production. Expanded harvests led to greater profits at the local market, even after paying off the loan.
The second loan was for the building of a roof. With three meals a day and a roof over their heads, this family then experienced what comes naturally to businessmen who are profitable: Confidence in their own ability to succeed. Their third loan was for the purchase of a sow.
In no time, they had a regular supply of piglets to add to their market line up. Now he's already planning his next loan: he wants to buy a tilling machine to help his neighbours harvest their produce more quickly. He'll make money from it and they'll benefit by turning around their production more quickly and increasing their frequency of revenue – a perfect example of how one person's success can have a multiplier effect on the community.